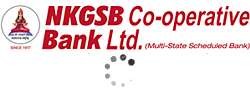 Services charges/ Locker rents & deposits revised w.e.f. 1st July, 2019
Schedule Fees for Depository services w.e.f. 1st Aug, 2019
Bank through Mobile/Net banking for free NEFT/RTGS/IMPS fund transfers.
Now avail benefits of RuPay Platinum on RuPay Debit Card
New Fixed Deposit Scheme introduced
109 Branches now open all over Maharashtra, Karnataka, Goa, Gujarat and Madhya Pradesh
SMS Alerts
"SMS Alerts" service enables you to get alerts for transactions done in your bank accounts on your mobile number registered with Bank. All NKGSB Bank customers (account holders) are eligible for accessing "SMS Alerts" service. NKGSB Bank "SMS Alerts" service is at present offered free to all its customers. If you are an existing NKGSB BANK customer, you can register for "SMS Alerts" with "SMS Alerts" Registration Form. You need to provide your mobile number while requesting for SMS Alerts services. After processing your request, NKGSB Bank will enable your "SMS Alerts" services.
Once the SMS Alerts service is enabled on your registered mobile number, you will be receiving SMS alerts for -
Transactions done by visiting Branch for amount greater than Rs. 5,000/-
2. For all transactions performed using any of NKGSB e Channels viz. Debit Card transactions such as POS, ECOM, ATM, Mobile Banking transactions, Internet Banking transactions, etc. )
NKGSB Bank will update you on products & services offered by bank and announcements from time to time.