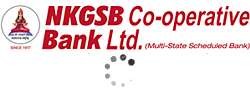 Service Charges / Locker Rents & Deposits Rates Revised
Bank through Mobile/Net banking for free NEFT/RTGS/IMPS fund transfers.
Now avail benefits of RuPay Platinum on RuPay Debit Card
Definitions
'NKGSB Bank' means 'NKGSB Co-operative Bank Ltd.'
Notice
Please read the disclaimer carefully. This is a legally binding agreement between you and 'NKGSB Bank' establishing the terms and conditions under which this website (www.nkgsb-bank.com) may be used. By accessing this web site, or any pages thereof, and/or using the information provided on or via this web site, you agree to be bound by this disclaimer.
In the event of any conflict between the terms and conditions of specific products and this disclaimer, the conditions specific to such products and services shall prevail. If you do not agree to this disclaimer below, do not access this website, or any pages thereof.
Copyright © 2023 NKGSB Co-operative Bank Ltd. All Rights Reserved.
Copyright in the pages and in the screens displaying the pages, and in the information and material therein and in their arrangement, is owned by 'NKGSB Bank' unless otherwise indicated.
Disclaimer
The information and materials contained in this site, including text, graphics, links or other items are provided "as is", "as available". 'NKGSB Bank' does not warrant the accuracy, adequacy or completeness of this information and materials and expressly disclaiming liability.
Products and Services are available only at the discretion of 'NKGSB Co-operative Bank Ltd.' subject to the individual contractual terms and conditions of products and services on which they are offered and such products and services may be withdrawn or amended at any time without notice.
You are recommended to obtain such professional advice where appropriate.
You may print out and /or download information contained on this web site only for your own personal use.
Privacy Policy
In the course of using this website, the customers may provide their personal information, which may or may not be of confidential nature.
'NKGSB Bank' reserves its right to use this information to better the relations with the customers, to provide to the customers more products and other useful information, and also for cross-selling of products. It will be well within the rights of 'NKGSB Bank' to disclose the information for just reasons but shall not be liable or responsible for liability arising on account of information passing through unauthorized access of the website or otherwise.
Virus Protection
'NKGSB Bank' has taken all steps to prevent the introduction of viruses, worms or other destructive material but does not guarantee or warrant that does not contain any such destructive material. 'NKGSB Bank' shall not be liable for any harm or damages which may be caused due to such destructive material present in this website.
Termination
'NKGSB Bank' may terminate your access to this web site and use of its Internet banking service at any time, with or without cause or notice.
Governing Law
This web site and disclaimer shall be governed by and construed in accordance with all applicable laws of India.
Additional Terms
Certain sections or pages on this site may contain separate terms and conditions, which are in addition to those terms and conditions. In the event of a conflict, the additional terms and conditions will govern for those sections or pages.
Hyperlink Policy
Any hyper link to other Internet sites is at customer's own risk, the contents of which and the accuracy of opinions expressed are not verified, monitored or endorsed by NKGSB Bank in any way or manner.
NKGSB Bank is not responsible for the setup of any hyperlink from a third party website to NKGSB Bank's website.
Any links so set up shall not constitute any form of co-operation with, or endorsement by, NKGSB Bank of such third party website.
Links to External Websites/Portals
At many places in this website, you shall find links to other websites/portals. This links have been placed for your convenience. NKGSB Bank is not responsible for the contents and reliability of the linked websites and does not necessarily endorse the views expressed in them. Mere presence of the link or its listing on this website should not be assumed as endorsement of any kind. We cannot guarantee that these links will work all the time and we have no control over availability of linked pages.
Links to NKGSB Bank Website by other Websites/Portals
Prior permission is required before hyperlinks are directed from any website/portal to this site.
Disclaimer
ENROUTING TO A THIRD PARTY WEBSITE
By choosing to click on this option, viewers will be prompted to third party links, and NKGSB Bank page will disappear and viewers will automatically leave the Bank's page. Needless to state, these links are meant for informative easy gateway. The NKGSB Bank do not have any operative hold over any third party web site or its material. Hence our bank cannot be held accountable for the contents or any material of these third party web sites.
So it is pertinent to note that NKGSB Bank do not undertake the responsibility of any nature what so ever related to warranties, expressions, representations, in any form either express or implied, related to such third party links or web sites or any material or information contained therein.
Viewers be noted that these third party web sites may have their own views, opinions, angles and different policies about security & other aspects which may differ from NKGSB Bank. It is always advisable that viewers do essentially review such privacy or security policies and be cautious always before sharing your personal or confidential information at your own risk and NKGSB Bank will not be responsible for any loss of what so ever nature or misuse of information if any in future.
Redirect to RBI Kehta Hai
X